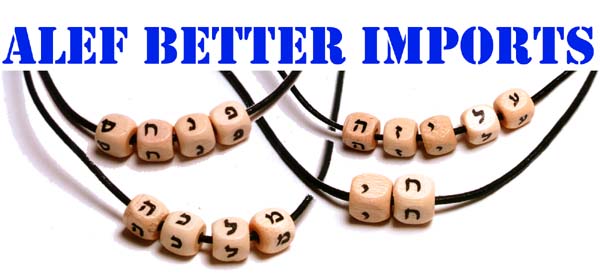 Phone: 415 297 9545 or
eMail us for info and orders

A full set of 1,600 beads makes approximately 350 first name necklaces/bracelets.
Full set $490 + shipping
Half set $275 + shipping
Beads hand printed in Israel.
Set includes convenient carrying case.
A letter chart designed to enable non Hebrew speakers
to spell names is available on request - free!
We provide quick refills of your most popular letters.
Free assitance in spelling names on request.
Ratio of letters determined by Alef Better's long time experience.
Please note, Hebrew is written without vowels.
Words written in Hebrew therefore look shorter than their English versions.

Individual necklaces and bracelets are also available.
Necklaces - $10
Bracelets - $8

Provide the length of your desired necklace or bracelet.
All necklaces and bracelets are strung on rawhide and include clasps.
Add two dollars for decorative glass beads on both sides of the name.


Make Hebrew name necklaces and bracelets
Great for kids and adults!
Fun activity for school or summer camp
Great addition to your holiday events
Fantastic for fundraisers
A novelty item for your gift shop or bead store
Upbeat way to promote Israel on campus
Hebrew name necklaces make great gifts too!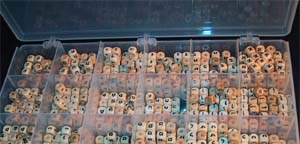 Other Israeli products coming soon!